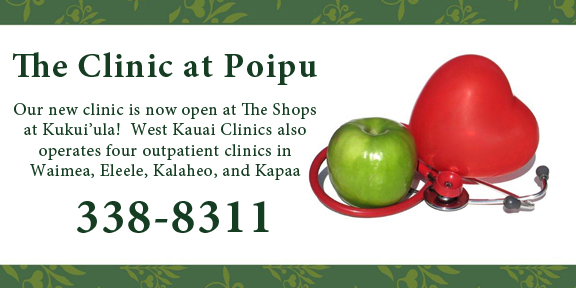 PRIMARY CARE & SPECIALTY CLINIC SERVICES
KVMH Waimea Clinic
4643B Waimea Canyon Dr. Waimea, HI
 96796
Clinic Hours: Monday – Friday 8am to 5pm
808-338-8311

The Waimea clinic is located in the Kawaiola Medical Building right next to Kauai Veterans Memorial Hospital on the West Kauai Medical Center campus. Services at the Waimea clinic include:

Obstetrics & PreNatal Care

Gynecology & Women's Health

Family Medicine

Pediatrics

Internal Medicine

Surgery

KVMH Port Allen Clinic
4353 Waialo Rd. Port Allen Marina Eleele, HI

Clinic Hours: Monday – Friday 8am to 5pm
808-335-0579

The Port Allen clinic is located in the Port Allen Marina complex in Eleele. This clinic is a hospital outpatient clinic of KVMH. Billing for hospital outpatient clinics is handled through the hospital and there are some differences depending on your insurance coverage. Download a brochure or click here for more information. Services at the Port Allen clinic include:
Pediatrics
Internal Medicine
Women's Health, PreNatal Care & Lifestyle Management
WEST KAUAI CLINIC-KALAHEO 4489 Papalina Rd. Kalaheo, HI
Clinic Hours: Mon-Fri 8am-5pm Some Eve hrs. Sat 8am-12n
808-332-8523
The West Kauai Clinic – Kalaheo is located in Kalaheo, right next to the Post Office. Services at the Kalaheo clinic include:
Internal Medicine
Family Medicine
SMMH – Kapaa Clinic
4800 Kawaihau Rd. Kapaa, HI

Clinic Hours: 
808-823-4157 (Call 338-8311 for traveling clinic appointments)
SMMH – Kapaa Clinic is located at Mahelona Medical Center which also is home to Samuel Mahelona Memorial Hospital. Specialties that provide services at the SMMH based clinic include:

Obstetrics & PreNatal Care

Family Medicine

Surgery
Specialty Clinics
Specialty Clinics are held on a regular basis at Kuhio Medical Clinic and in Kilauea.
Please call the Waimea Clinic at 808-338-8311 for scheduling and more information.